So named by the NZ Herald, Alexia Hilbertidou is the founder of GirlBoss NZ – NZ's largest organisation for young women. In 5 years, GirlBoss has grown to 13,500 members and programmes have been implemented in more than 100 schools across New Zealand, Australia and the Cook Islands.

Alexia was spurred to start GirlBoss New Zealand at 16 years old after being the only girl in her Digital Technology and Advanced Physics classes at school. Alexia's own mission is to get women to the table - the boardroom table that is, and she believes the decisions made while young are crucial in paving the way.
We got to ask Alexia a few questions on your behalf recently…
We'll start with "advice" – we're sure you've had lots of it! Can you share one piece of advice that worked for you and one that didn't?
While I was in London I got to meet and be mentored by Jamie Oliver, celebrity chef and owner of a $470 million cooking empire. Jamie is the most charismatic person I have ever met. He told me:

"When I opened my first restaurant at age 25, I decided that I would only hire youth from disadvantaged backgrounds; those with drug or alcohol problems, the unemployed and the homeless. My family, other chefs, my friends - everyone thought I was nuts. My father didn't speak to me for a year as he thought I was throwing away my life to help others."

However, that decision to do something different, to give a hand up to others, propelled Jamie and his restaurant into global fame. Once people heard of the mission, people came in droves and signed up for bookings months in advance.
He said to me: "When you walk into any boardroom who is the leader? Who is the influencer? The one with the most hope. Be the one with hope. Be the one with vision. Be the one with optimism."

In New Zealand, we tend to shrink ourselves, make ourselves smaller, but when we project hope and vision we give others permission to do the same.

Advice that didn't work for me – that starting a business is incredibly hard and you need to burn yourself to the ground to succeed.

Being in business is simply sharing your gifts, knowledge, and expertise with others. When you realise that your voice, opinions and thoughts matter, and are needed, you can strip away the pressure to be perfect, and just SHOW UP. Starting a business or organisation is not inherently hard – if you put in the time, and are working in your zone of genius, you will create something amazing. Just complete one task after the other and remember that so many people want to help you and see you succeed. You already have everything within you to make it happen.
Tell us about what is intriguing you at the moment (tech, trends, things to watch etc)?
I recently read this quote from Sallie Krawcheck:
"Money is power
Money is freedom
Money is confidence
Money is "creepy boss get your hand off my leg"
Until women are financially equal with men, we're simply not fully equal with men."

I am excited by the rise of women and minorities talking openly about money, investing, and business. As women, we earn less across our lifetimes, and talking about money is considered 'unladylike'. But the rules of the past are made to be broken. Money has been used as a tool to control women for too long. It's time to flip the narrative. More and more women are aiming for financial independence – having the finances needed at any given moment to make independent choices.
Money gives you choices, purpose, and power.
How do you get inspired?
I get inspired by every woman who steps into entrepreneurship.
For too long, women have been put off the path of entrepreneurship due to the stigma of long hours, stress, and 'hustle' culture which is portrayed in the media. Google images of "business leaders" and you will be hard-pressed to find anyone who is even remotely relatable, to women like you or I.
At GirlBoss New Zealand, we don't subscribe to the rules of the 'boys club'. We create our own rules in business and in life, and we live it on our terms. We are driven by a desire to shift the dial for all girls and women. We believe money gives you choices and freedom and can enable you to make a difference.
We believe you can succeed, and so can other women. It is not an equal sum world, you can achieve all of your goals and more… and so can every other person on this journey with you.
Do you have any advice for a young person who wants to start their own business?
In the words of entrepreneur Marie Forleo, "Everything is figureoutable".
If you want to go after or achieve something epic, there's always a way to get there and you have everything within you to figure out the path. Once you realise you already have everything within you - you will be an undeniable force. Not undeniable in the sense that everything will always go your way, because it won't. Not undeniable in the sense that you will never be let down, face criticism, suffer rejection, or be challenged beyond what you thought was possible, because you definitely will.
But you will become undeniable in the most empowering sense. You will understand profoundly that – no one challenge, no one person, no one fear, no one stereotype, no one circumstance – will ever again have the power to hold you back.
No matter what you're facing, you have what it takes to figure anything out and achieve what you were destined to achieve.
And finally, living your best life, where will you be in 10 years' time?
I am living my best life today and will continue to live it for the rest of my time on this earth – doing everything I can to enable women to lead and change the world.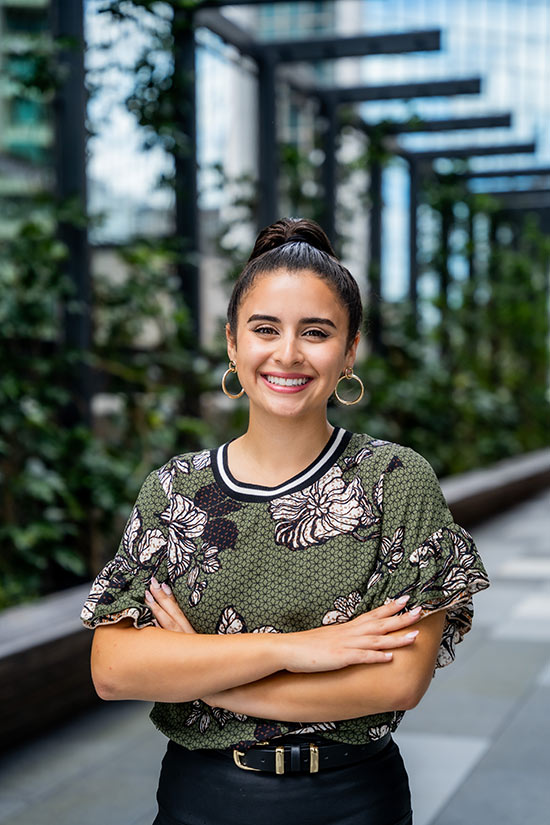 Alexia